People ask me if it is hard to part with pieces I am fond of. "How can you sell that?" they ask. I admit that sometimes it is bittersweet to see a piece leave the studio but this weekend offered up two examples of why, deep down, I like my art to find new homes.
Back in 2010 I did a series of paintings on mounted pages from an old family Bible that was near tatters. I love the Isaiah verse about eagles wings and enjoyed doing these beautiful birds to illustrate the chapter the verse comes from. It struck a chord with someone who saw it on FB and she called to come and see all of the pieces I had done. She selected several and explained that her son had an fondness of that same verse and was getting ready to leave on a mission project of great length and she wanted to give it to him. Long story short, I followed the blog of his project even when he eventually became so sick and malnourished he had to shorten the trip. Thus we lost track of each other.
Saturday, this lovely woman showed up at our holiday sale and upon recognizing me caught me up on the whereabouts of this wonderful young man. When he married and left home for graduate school, she reported, mom insisted he pack up whatever he intended to keep from his childhood home so she could redecorate. "Well," she said smiling softly, "your painting was the first thing he took."
I got chills.
I really did, I still get them. The fact that I created something that someone spotted as the perfect gift for the correct person and that the recipient valued it so much....there are no words to explain just what that means.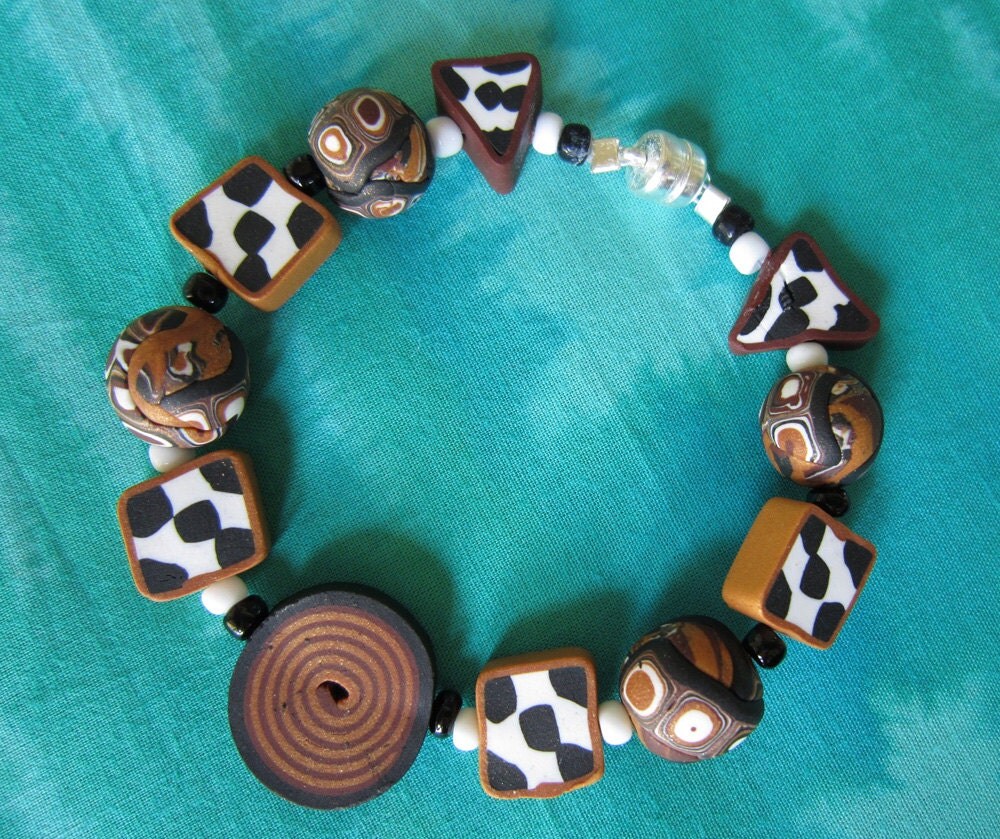 Several years later a fellow artist taught me how to do some beads in fimo clay. We made wonderful shapes and baked them and created earrings, bracelets and necklaces. From this project the Pieces of 8 made kinky black and white mis-matched earrings that were a real hit at our annual sale. But I had several wild and crazy pieces that I loved making and sold them as well for a short time.
Saturday I spotted a very attractive (model attractive if you know what I mean) woman coming up the walk wearing an eye-catching necklace. (Mental note to self was: beautifully put together look, Cindy needs to try a little harder before going out on a Saturday morning.) Anyway, as she got closer I did a double take at the necklace...it was orange, red, brown and black... colors not too many folks mix together. She turned and went in another direction so I lost track of her and got back to work. Later, a friend was waving me over with the words "she wants to meet the artist." Puzzled I went over and started grinning...the closer I got the better I could see that the necklace had been created by...me! I was humbled...really! You think what you make is lovely....but put in the right place?...well it dazzled. Or maybe that's my opinion. But, bottom line. I was so glad that my creation was out in the world bringing smiles to other people, doing what it was built to do. What a shame if it were still sitting in my overstuffed closet because I could not bear to part with it. This was a joyful moment.
So when a piece you have purchased brings you happiness please share that with the artist. A little story, a tale about where you hung it, it's like hearing the teacher talk about your own kid: is that really MY kid she is talking about? Buttons will burst with pride and we artists are fueled to continue this long and sometimes lonely journey of creation...hoping that the next piece will be just the right one to bring someone somewhere a bit of added pleasure!
It was a great day.